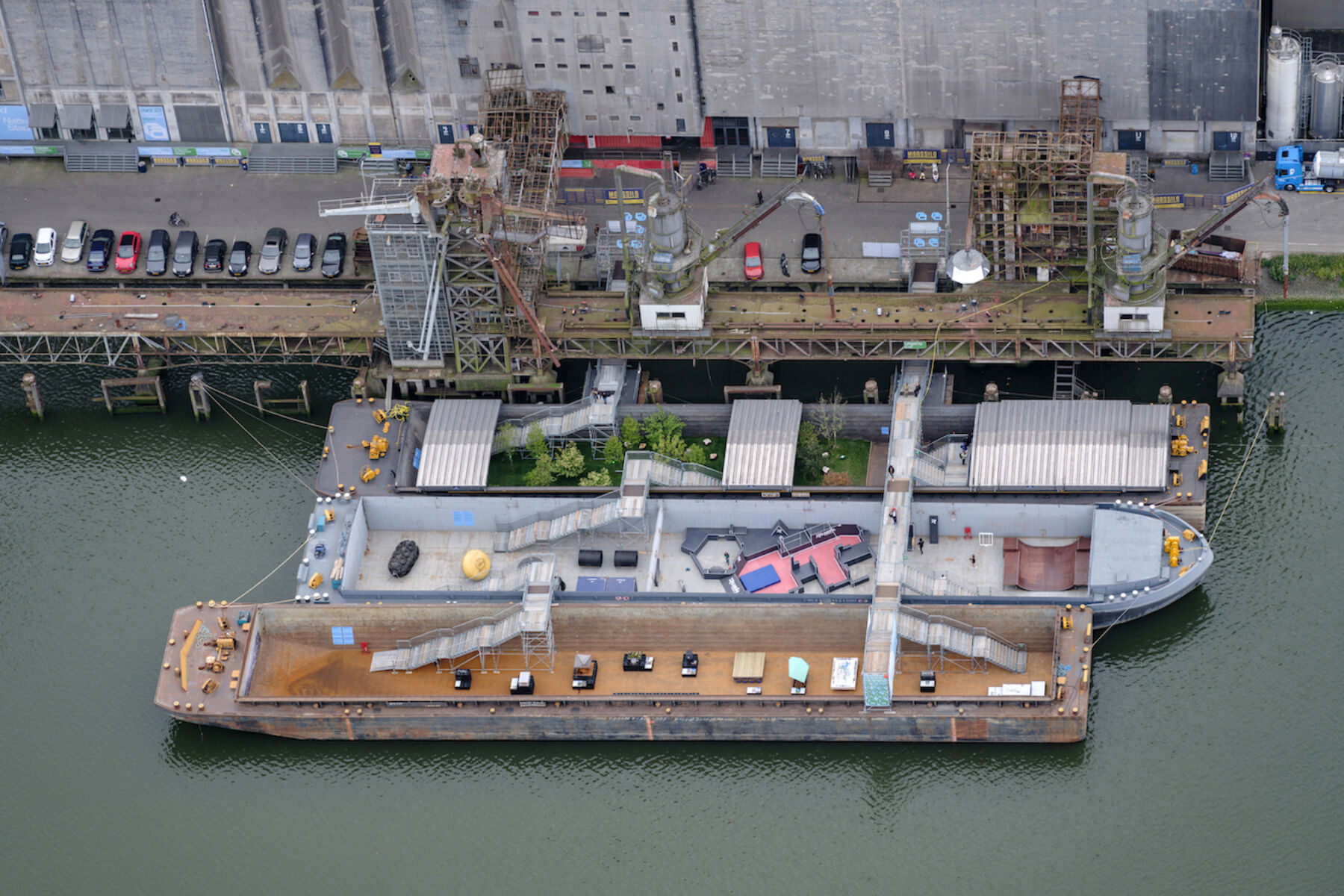 With the festive opening of the floating festival heart by Alderman Said Kasmi, Rotterdam Architecture Month 2023 officially kicked off on June 1.
There is something for everyone during this special month, regardless of knowledge or experience with architecture. During this festival, you will discover how architecture influences and improves everyday life.

Floating festival heart in the Maashaven
Last year, the pink stage atop The New Institute during Rotterdam Architecture Month was a great success. This summer there is another crowd-puller: a floating festival heart in the Maashaven. It consists of three floating bins in the Maashaven containing a green park, stage, exhibition and a place for skateboarders, freerunners and other urban athletes.

With the floating festival centre, Rotterdam Architecture Month aims to build a bridge between various developments taking place around the Maashaven, such as the Nelson Mandela Park. This new city park in the Maashaven is currently under development and willl become about ten football fields in size. The floating festival heart of the Rotterdam Architecture Month is a kind of test location; by working together now and sharing knowledge, energy and a network can be created on which the further development of the Nelson Mandela Park can be built.

Sports and architecture
One of the bins of the floating festival centre is fully equipped for urban sports such as skateboarding, freerunning, football and dance. In addition to a skate ramp, there are several special objects from the harbour here that urban athletes can use.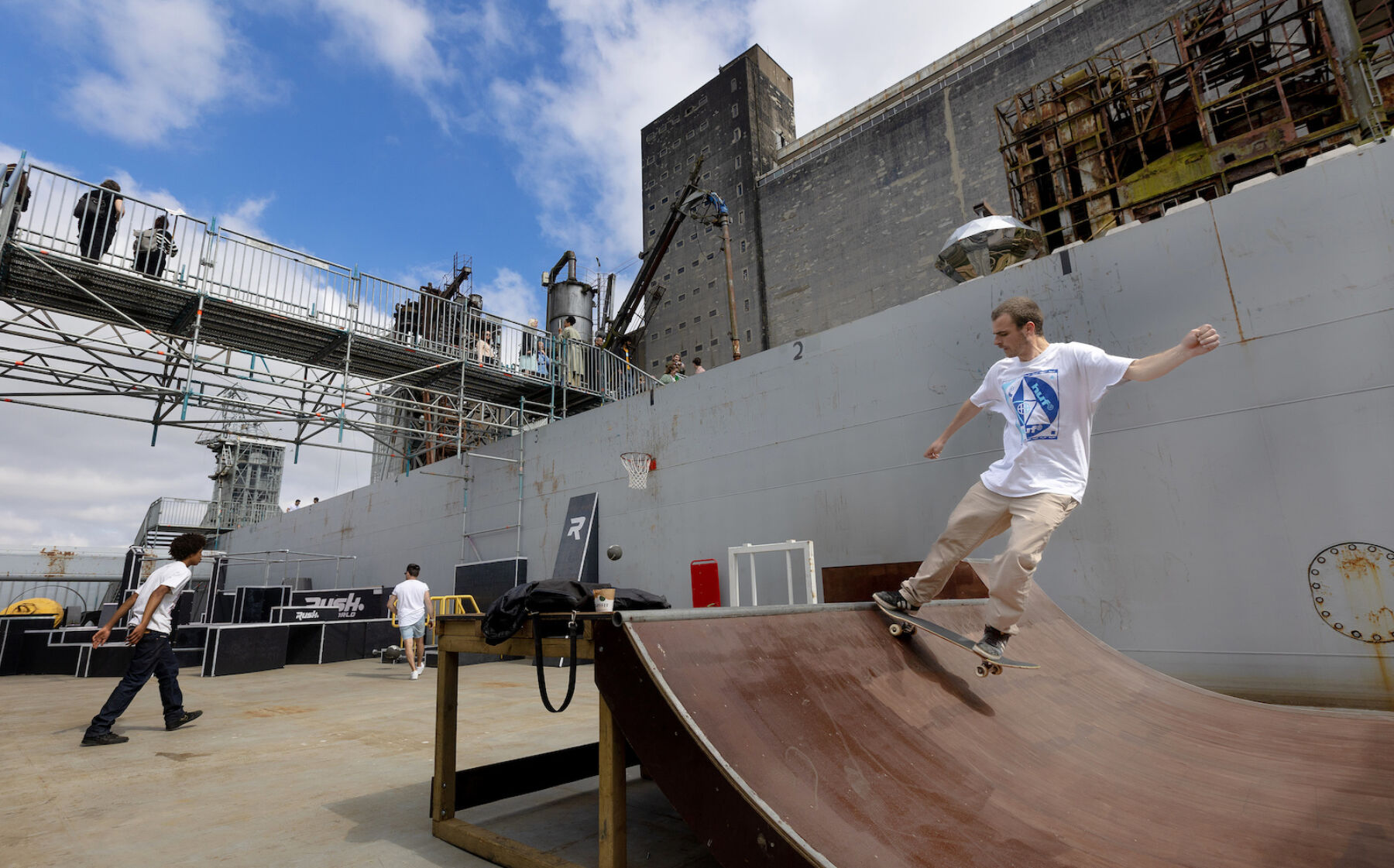 Programme Rotterdam Architecture Month
But there is also plenty to do for everyone outside the festival heart during the Rotterdam Architecture Month, with more than 125 activities spread over 40 locations. For example, on Friday 16 June, people will listen to and actively talk about underexposed voices in architecture at the festival heart during the Women in Architecture symposium. On Saturday 17 June it is the Day and Night of Architecture. From early in the morning until well into the night, visitors can experience the architecture of Rotterdam with a rich programme of tours, workshops, films and performances. This year the focus is on the classics and new buildings in the South of Rotterdam.

Special activities
And this year too, visitors can enjoy breakfast on a special place, this time at the Maashaven with architect Robert Winkel (Mei architects and planners). Architecture and dance come together in Blind Spot from June 18, a theatrical walk full of contrasts. With headphones, participants walk from Hotel New York to the festival heart while dancers play with ideas and expectations about space, rest and unrest. That same day, the programme Fresh Perspectives | Reclaim the City takes place, where young people make a blueprint of the city of the future during a challenging master class.

In addition, every Thursday evening throughout June there is Thursday Night Detours: Architecture in Het Nieuwe Instituut, where a 'detour' takes visitors on a free architecture detour.

When: the Rotterdam Architecture Month will take place from 1 June to 30 June 2023.
Where: the festival heart is located in the Maashaven, but the entire program consists of about 125 events spread over more than 40 locations.