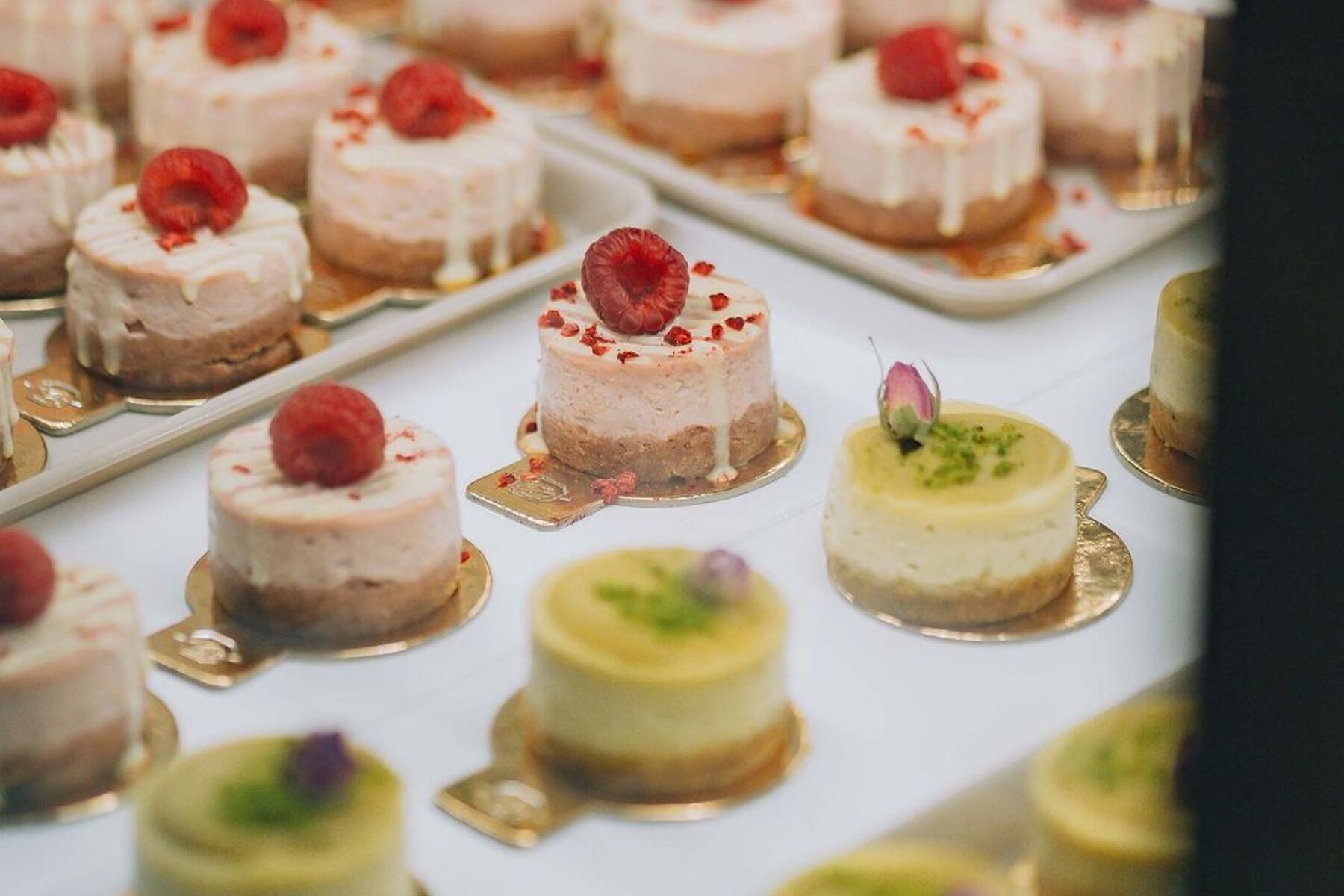 We visited the new shop and spoke to the proud owners Nadia Salah and Onur Yusuf Sahin. Together they form a powerful duo, with Nadia as the creative baker and creator of all their delicious recipes, and Onur as the real entrepreneur of the two.
In our conversation, Nadia explains how The Cakery's adventure started, what visitors can expect from this new location, and what they like about Karel Doormanstraat. Onur tells more about the special eye-catcher in their store.

We come to visit when the store is still closed, so we immediately get a look behind the scenes. In the kitchen they are already busy decorating the cakes. They then place the first cakes, blondies and brownies in the display case. "That's something we do all day long," says Nadia, laughing. We then take a seat on the couch for the interview.
How did The Cakery start?
Nadia: "That was eight years ago now. My adventure started with sharing theme cakes via my personal Facebook and Instagram page. At that time, drip cakes were extremely popular, and I was one of the first in the Netherlands to make them to order. Orders soon poured in from family, classmates, even my internship supervisor."
"Initially, I started from my childhood home, where I baked cakes for two years. Mainly wedding cakes, engagement cakes and birthday cakes. Then I married Onur and we temporarily moved to Maassluis. At home, I continued baking until four years ago, when my husband and I made the decision to open a shop in Delfshaven and get serious about my passion. At this location, I had a larger kitchen at my disposal and we started hiring staff. It was also the time we started making cakes for the catering industry, instead of themed cakes."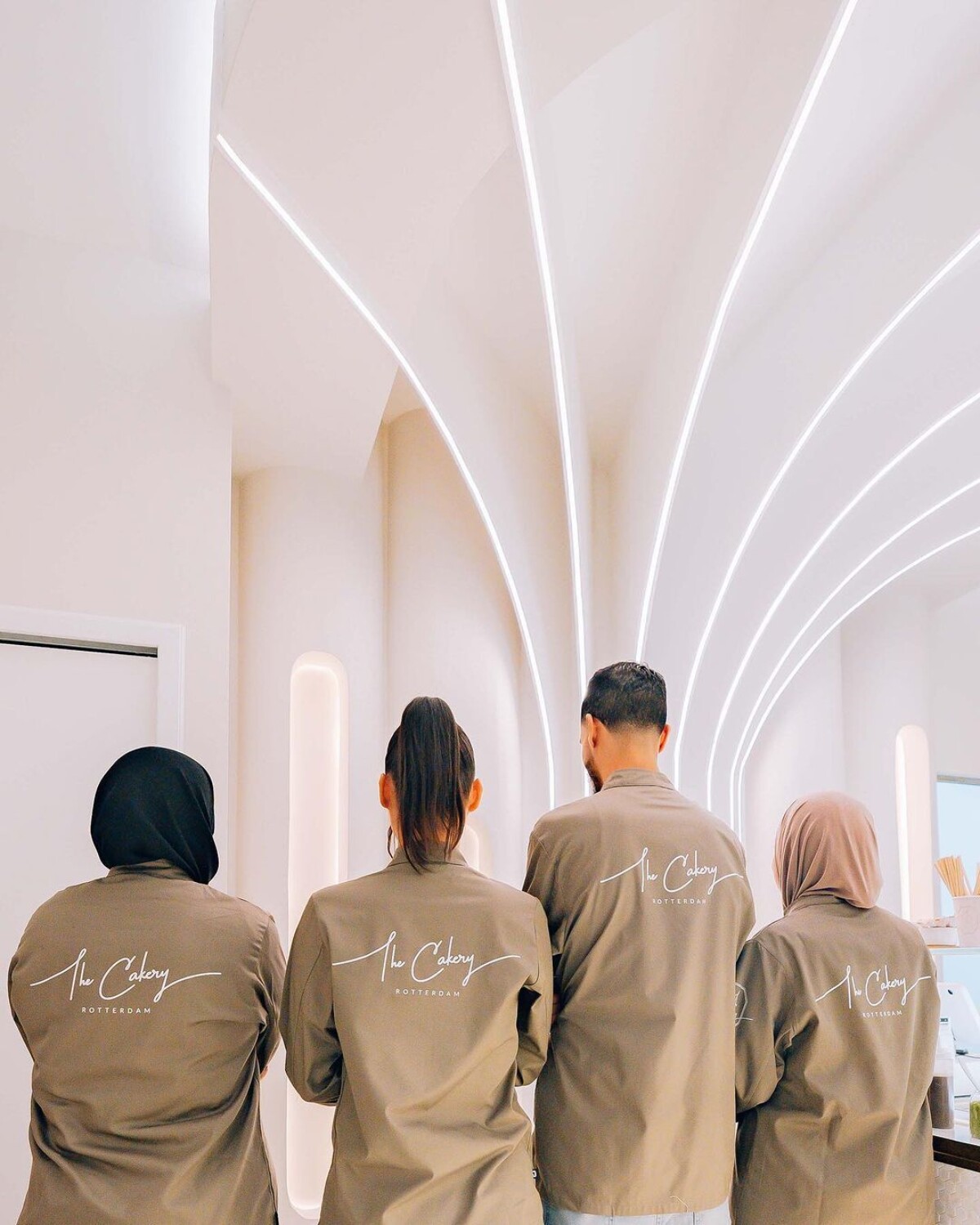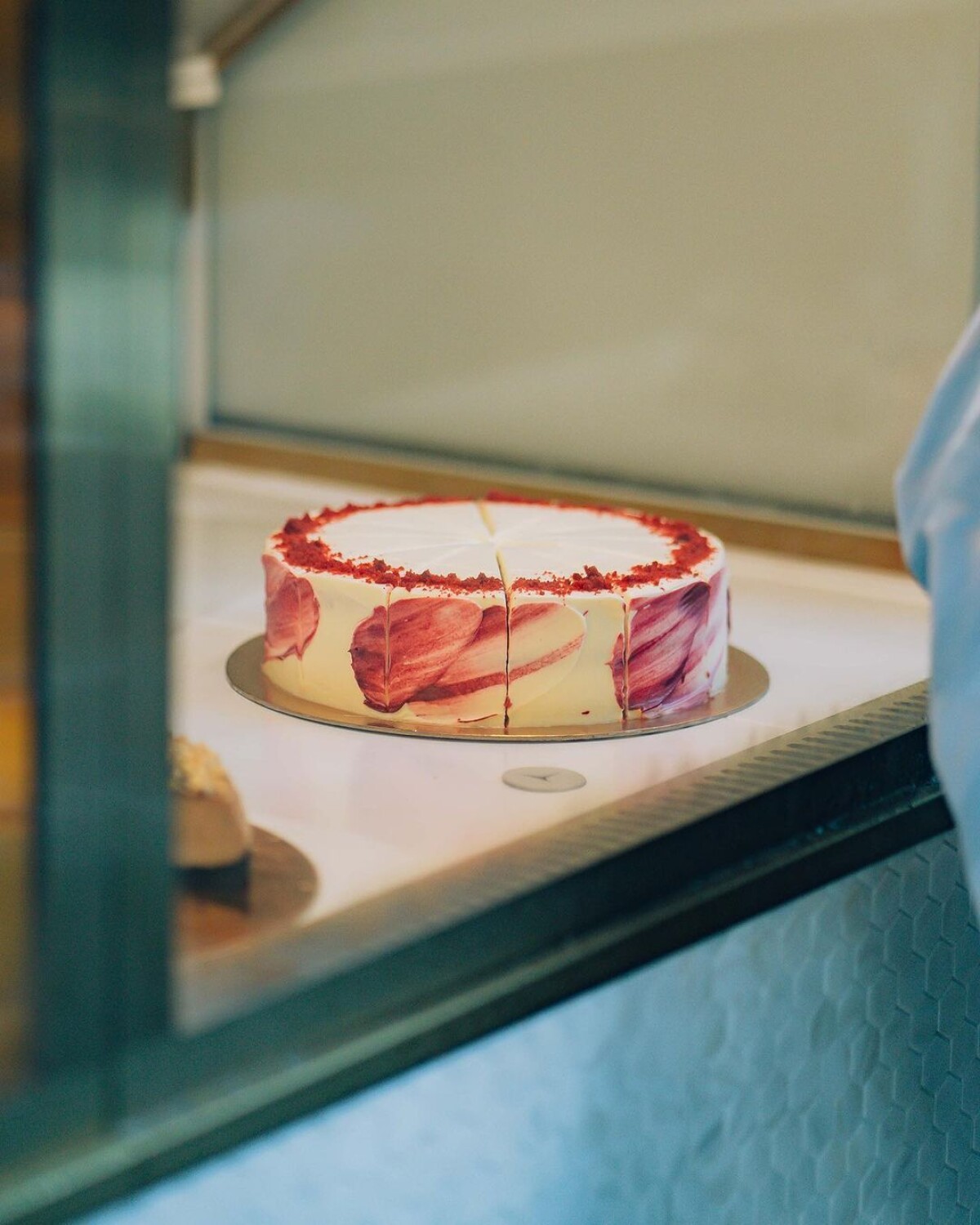 What can someone expect from The Cakery?
Nadia: "We have an extensive range of delicious cakes, cheesecakes, different kinds of bars, brownies and blondies. Everything is handmade, including our sauces and whipped cream. We do not use ready-made products. Many of our creations are unique and I came up with them myself. Take for instance our Ruby Raspberry Cheesecake, inspired by the Magnum Ruby. Or our Bounty Cheesecake with chocolate cake, coconut layer and cheesecake."

"You have the option of getting our items to go, or taking a seat inside or on the terrace. In winter, we plan to create a winter terrace. We have noticed that especially in the evening, a lot of people drop by. Some enjoy dessert after dinner, others stop by after work or meet up here with friends. Since our opening a fortnight ago, we have already changed our opening hours three times. Now we are open from 12 to 10pm."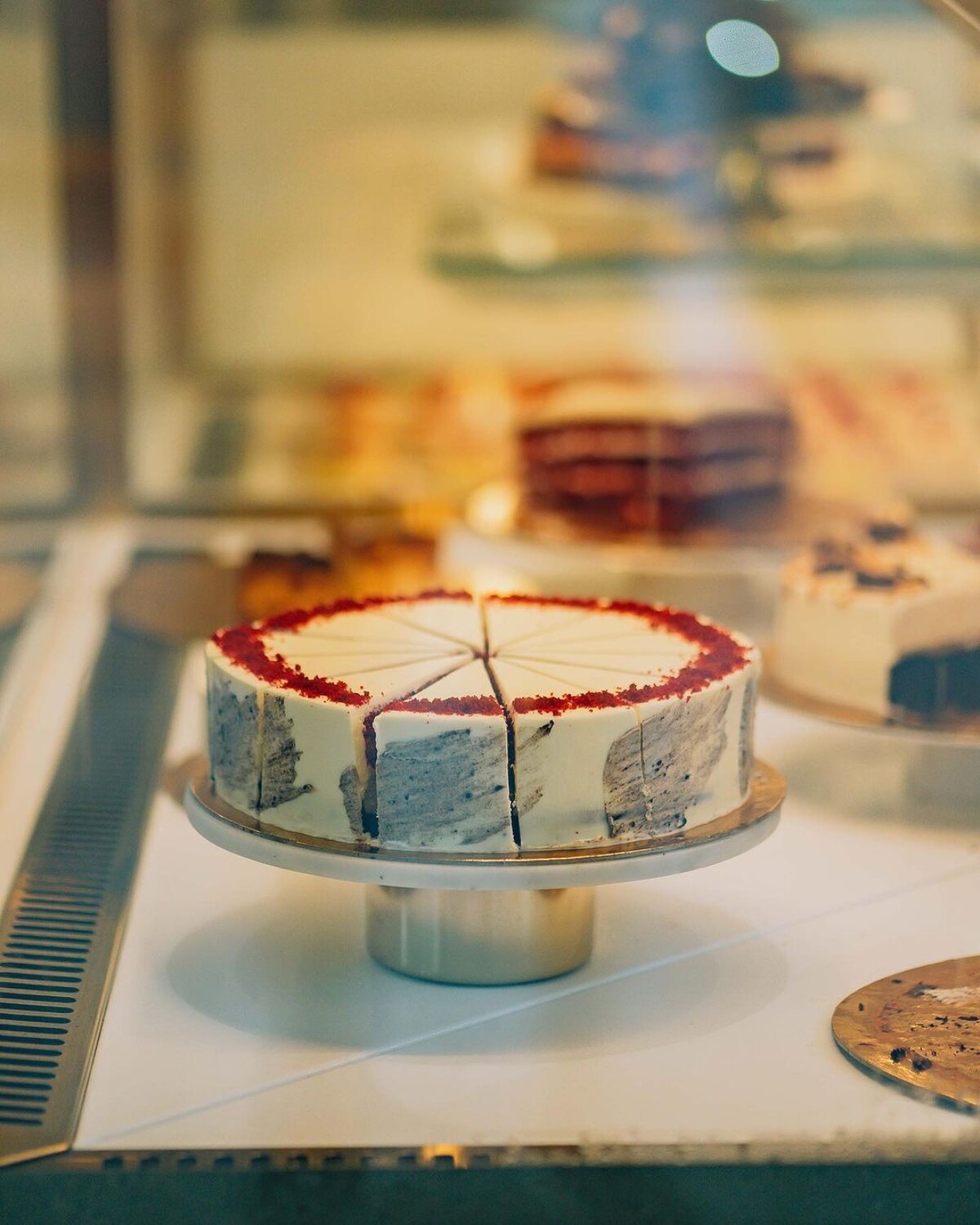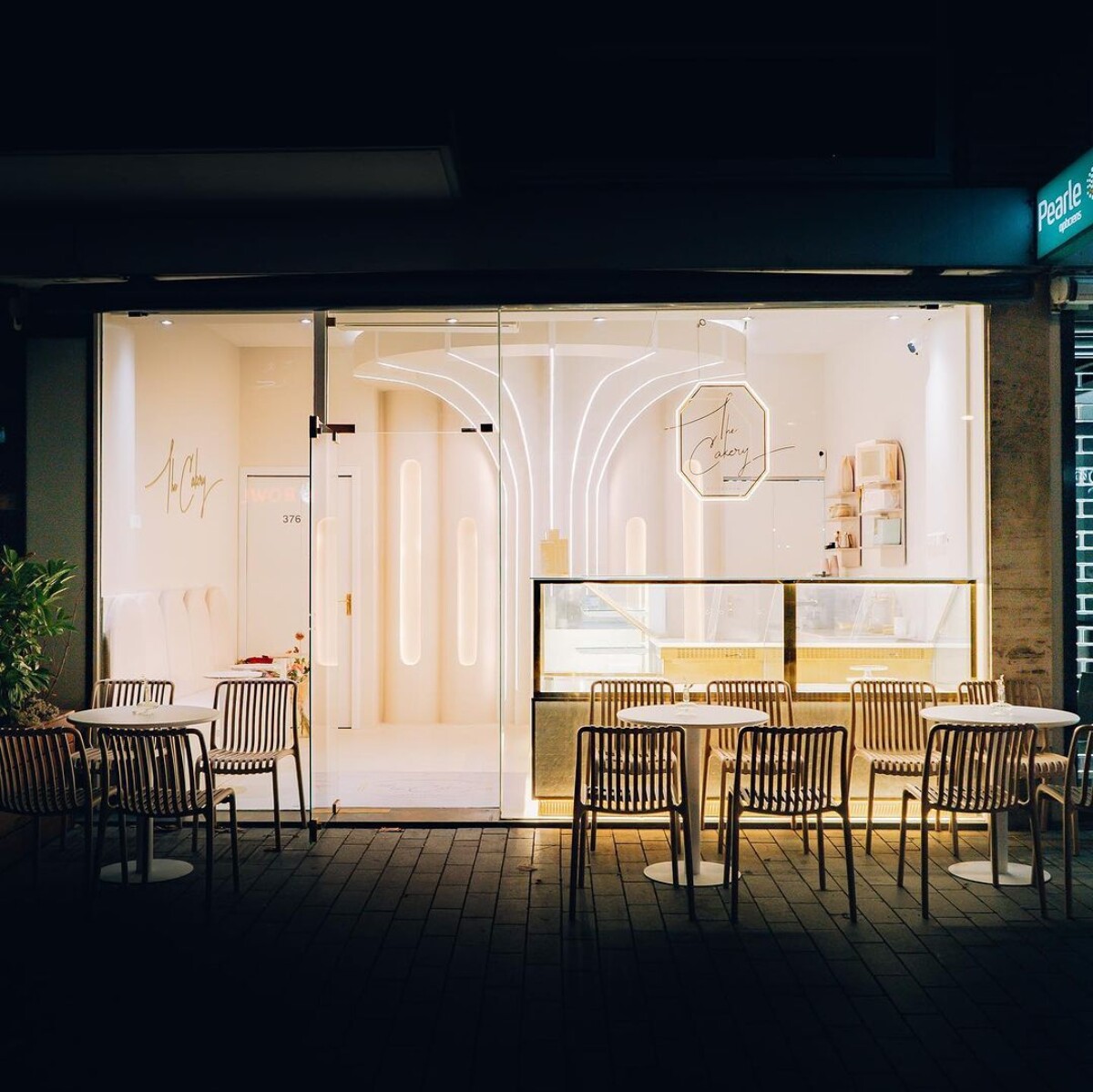 What makes The Cakery unique?
Nadia: "Besides our special cakes, we also offer special drinks. For example, a real favourite is the cappuccino crème brûlée, a delicious cappuccino with vanilla crème brûlée flavour and a crunchy topping like a real crème brûlée. Or the pistachio latte, which is a latte macchiato with a hint of pistachio. We really love pistachio here."

"As a new concept, we are also introducing The Cakery Specials at this location. These are warmed brownies or blondies served with ice cream. One of the Cakery Specials is a warm blondie with pistachio ice cream and pistachio cream."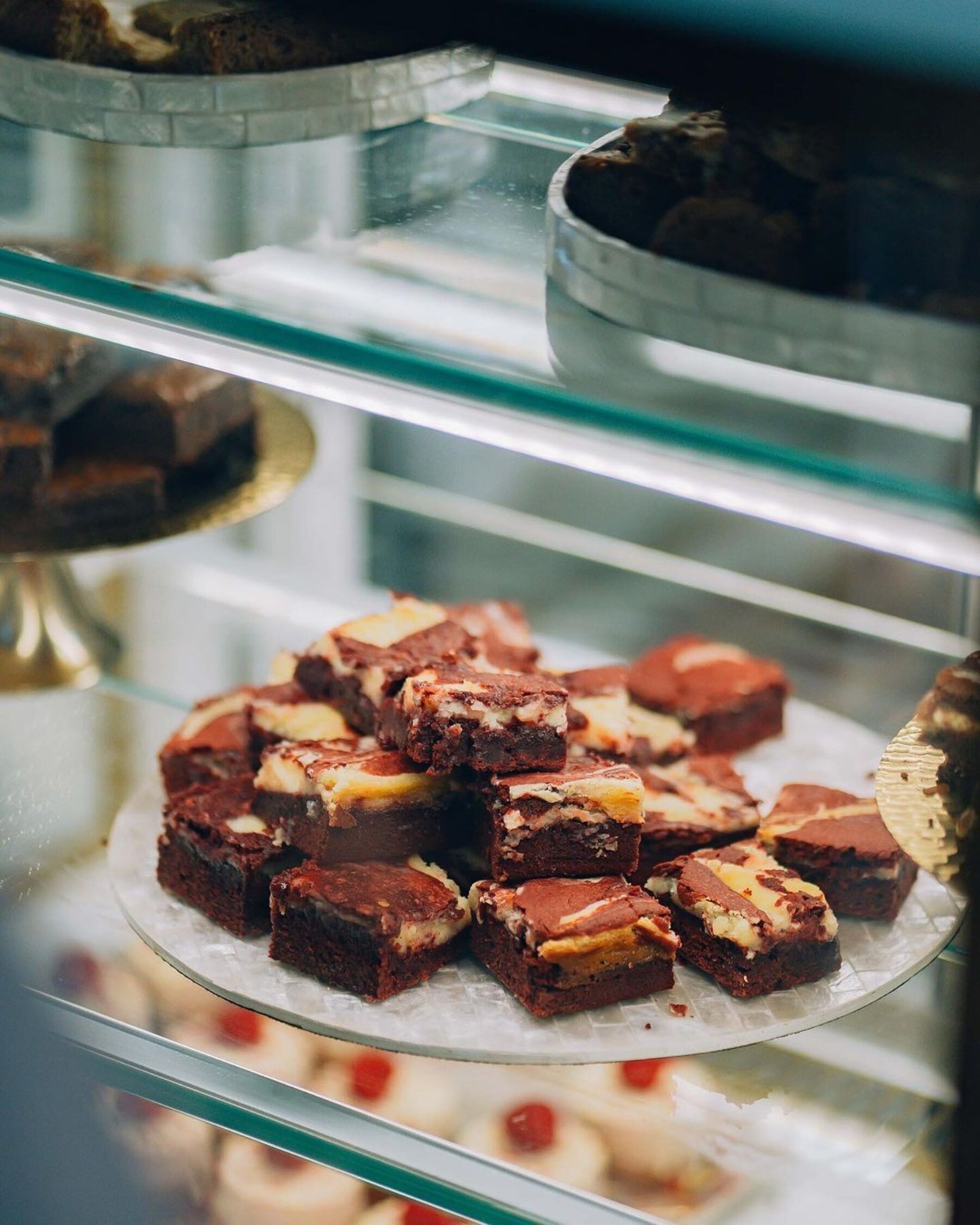 What is your favourite cake from the range?
Nadia: "My favourites are the Bounty Cheesecake and the Baklava Cheesecake. There is another special story behind the baklava cake. I first made that cake in 2016, when I was still baking cakes at home. I had just returned from my first trip to Turkey and was inspired by all the baklava I had eaten there. So I decided to put my own spin on this delicacy and made the baklava drip cake. I shared a picture of it in a Facebook group and got 8,000 likes and over 2,000 friend requests. That was actually the moment I broke through. I still have the baklava cake, but as a normal cake instead of drip cake."

Is the Baklava Cheesecake also the most popular product?
Nadia: "Many people come to The Cakery especially for the Baklava Cheesecake. We were one of the first with this flavour, but over the years many people have copied it. During Ramadan, many people also come for our Ramadan specials, the mini baklava cheesecakes and chebekia, a Moroccan honey cake with a hint of aniseed."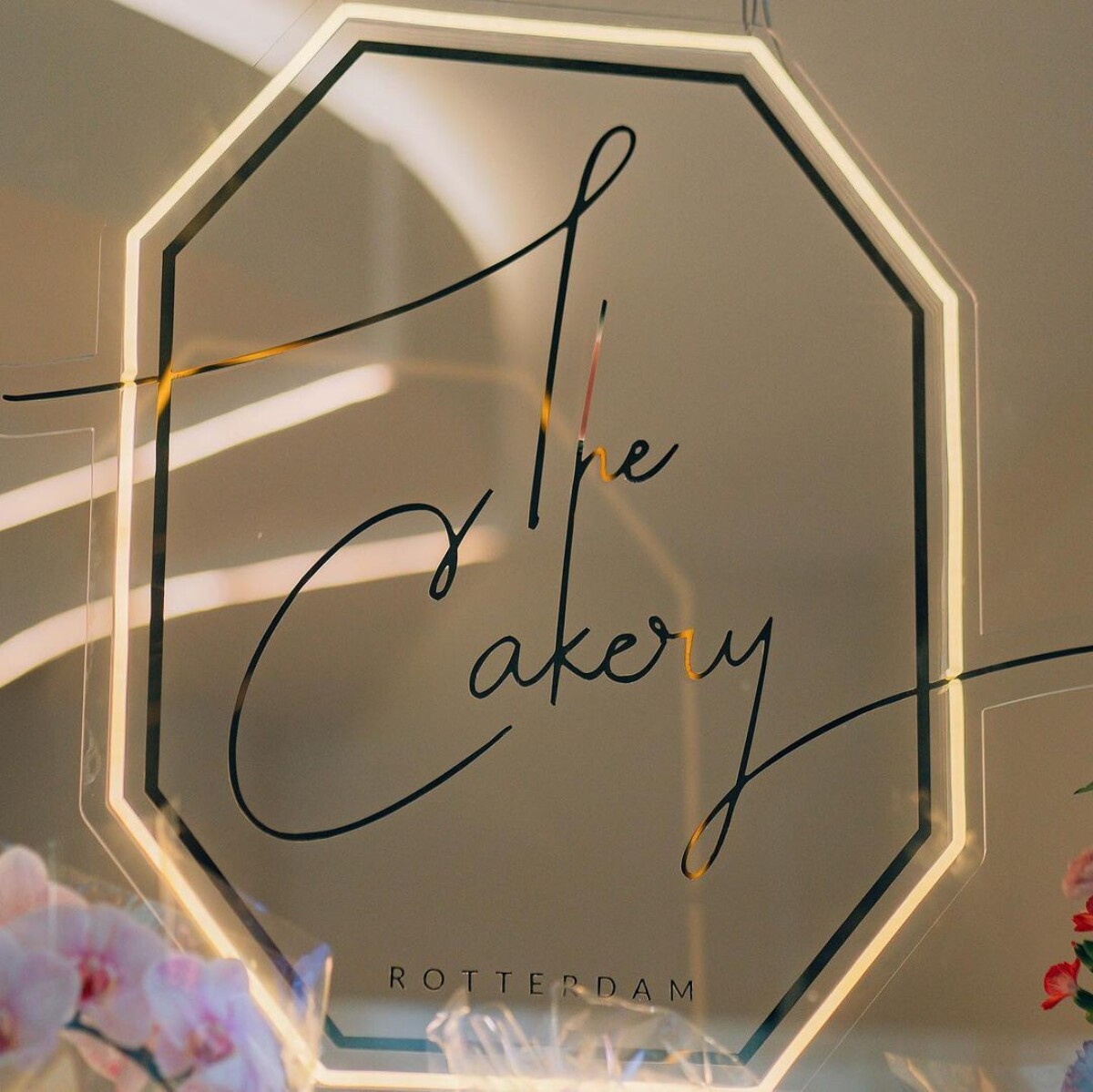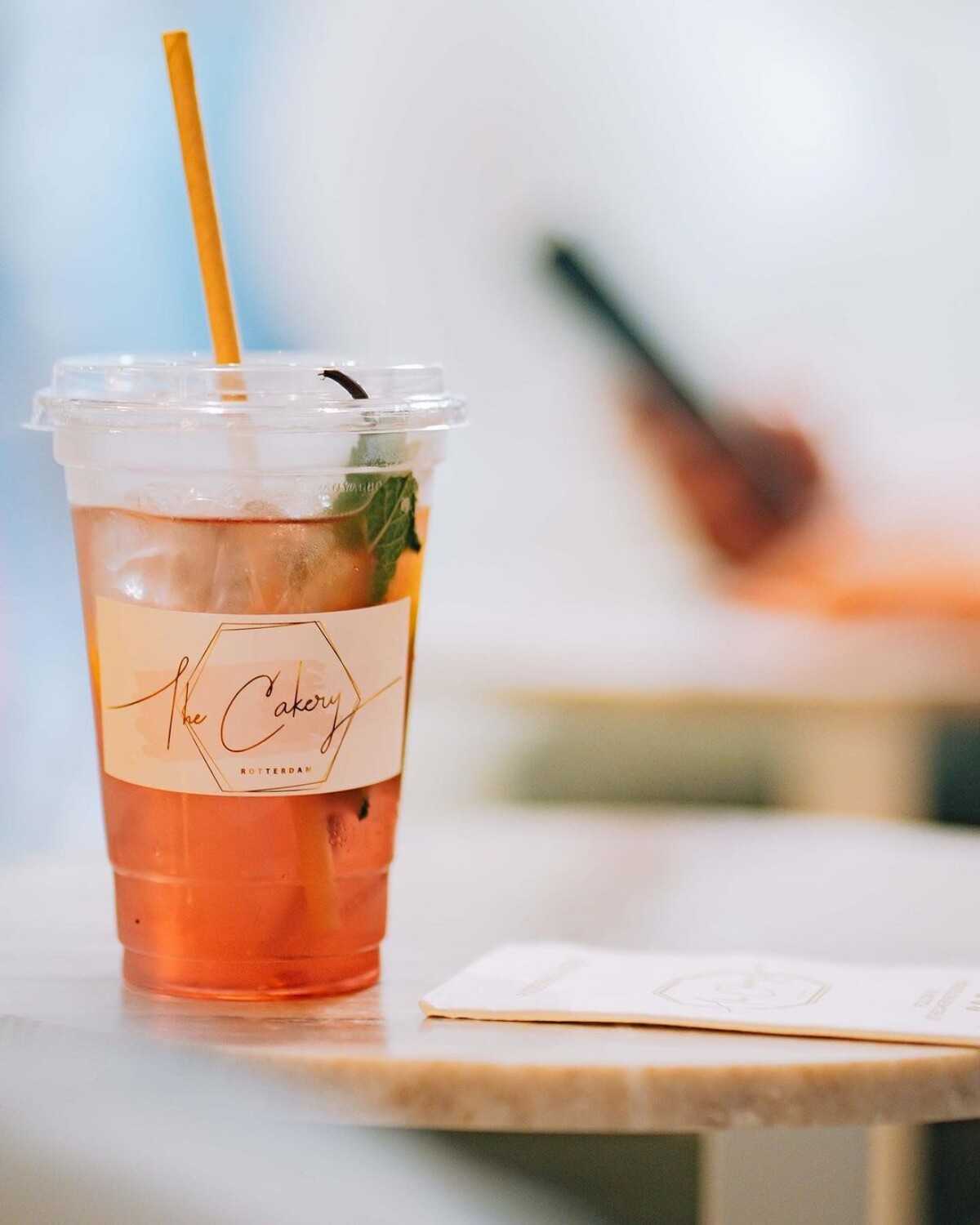 Why did you choose this location?
Nadia: "We had been looking for a new location for a while. In Delfshaven, our patisserie was by order only and we were often asked if we had a shop. Many just wanted to drop by for a piece of cake. Then I always referred them to our sales points. But not everything was nearby. My husband was searching very fanatically and tried different locations. Finally, this came on our path. It's nice that we can sell from this location at the front and do orders from the back."

Do you like it so far?
Nadia: "Definitely! We really wanted a location in Rotterdam city centre, and it's nice that we live nearby. The Karel Doormanstraat is a street where I already came by often, to visit the Koffiebar or SUE. Funnily enough, I even applied for a side job at SUE when I was eighteen. At that time, I was already baking and working in a burger joint. It seemed better to do something with baking in my side job too. In the end, I didn't join SUE and continued baking at home. And now we are neighbours!"

Can you tell us something about the interior?
Nadia: "For the design of the shop, I was inspired by Pinterest and my trips to England and Dubai. My preference was for a clean and above all stylish design. The walls and floors are beige and there are beautiful gold details. The display case with mother-of-pearl is our own design; simple yet special. Everything is very minimalist because the cakes already have enough colour. We also have the eye-catcher at the back of the shop: a tree."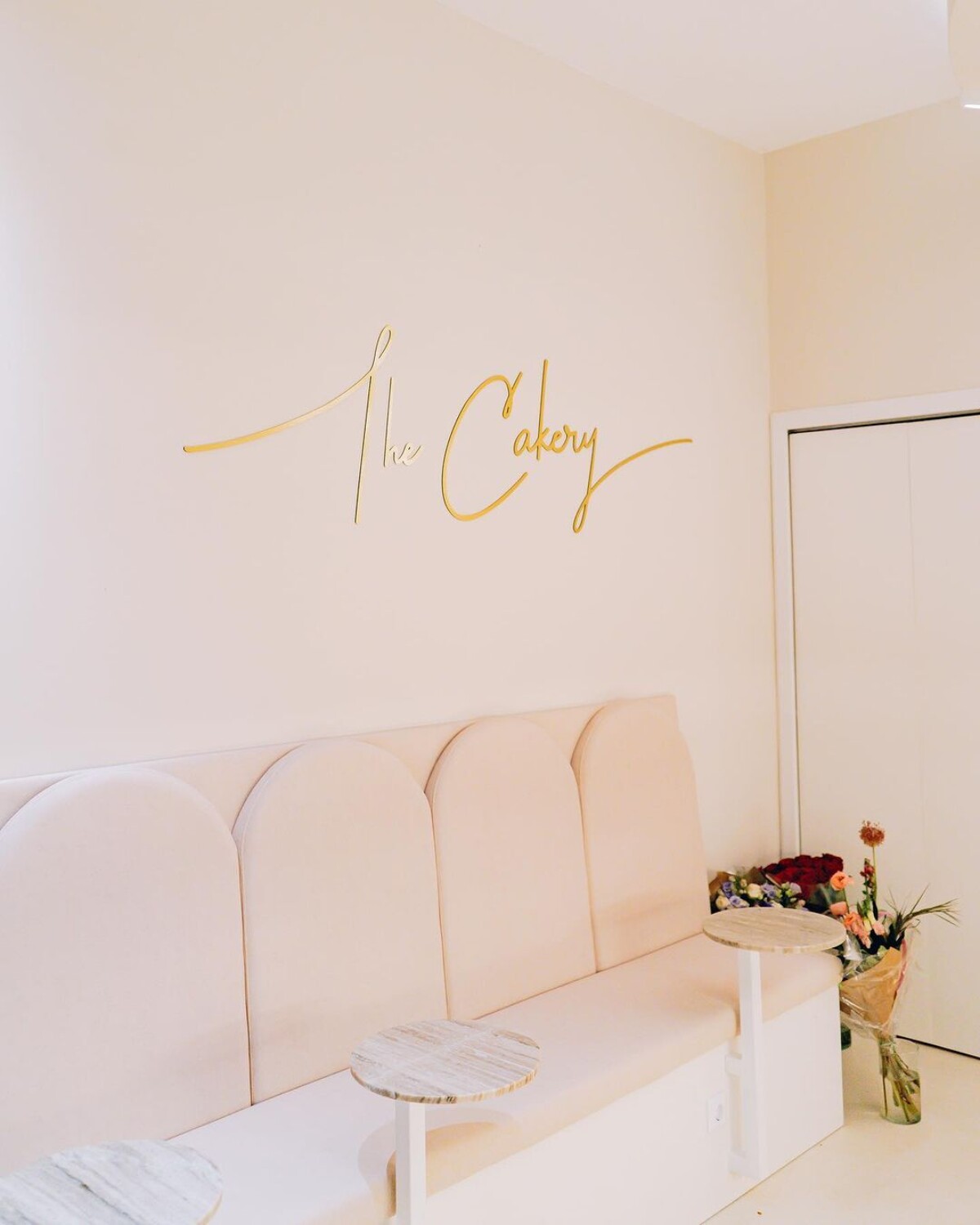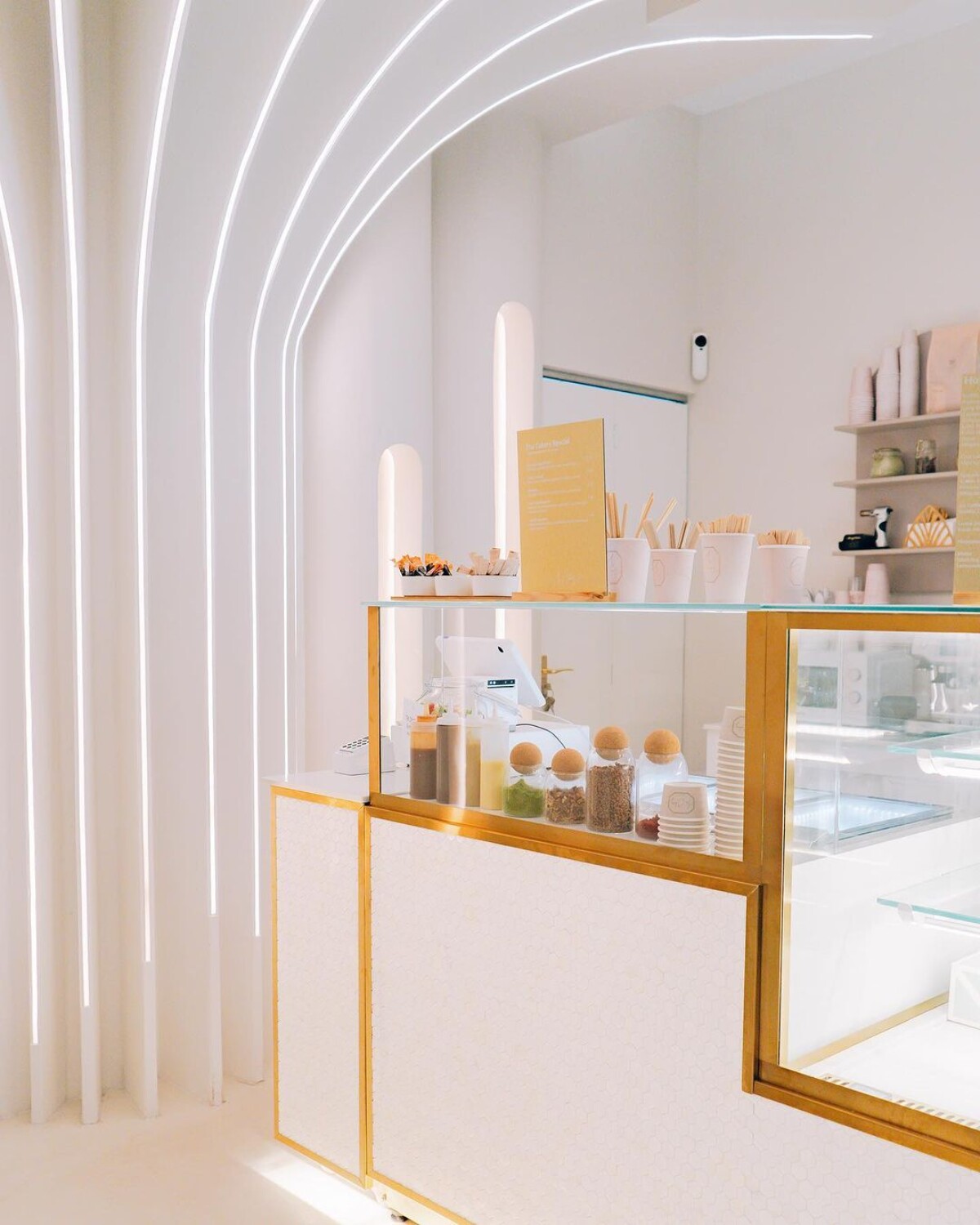 Exactly at noon, the shop opens and the first customers walk in. Onur also enters the shop after taking their child to daycare. He is happy to tell more about the shop's eye-catcher.
Why did you choose the tree as an eye-catcher?
Onur: "The tree in The Cakery is the tree of success. In the beginning, you have just a seed, which you water, after which it turns into a young plant, which later grows into a tree with trunk, branches and leaves. Only then can you pick the fruit. It is the same way for The Cakery. We have been working for seven years and there is already a tree, our very first shop, but we still have to be patient for the fruits."

"However, a tree doesn't grow overnight; it is a long process that started in a humble kitchen and has now led to where we are here. It requires hard work and that is something I have always emphasised, as this tree illustrates. If you are dedicated and work hard, it will eventually bear fruit, but all in due time. Our ultimate goal is to become a franchise business, keeping and supplying our cakes and recipes to our own franchisees. "

How do you work together?
Nadia: "I am more of an introvert and feel most comfortable behind the scenes in the kitchen. My husband, on the other hand, is extroverted and has a chat with everyone. So we really make a good team and complement each other perfectly. Thanks to him, we have also grown. He has often encouraged me to improve things and be more active on social media. He focuses entirely on The Cakery, so we really do this together."

Thank you for your time, Nadia and Onur!