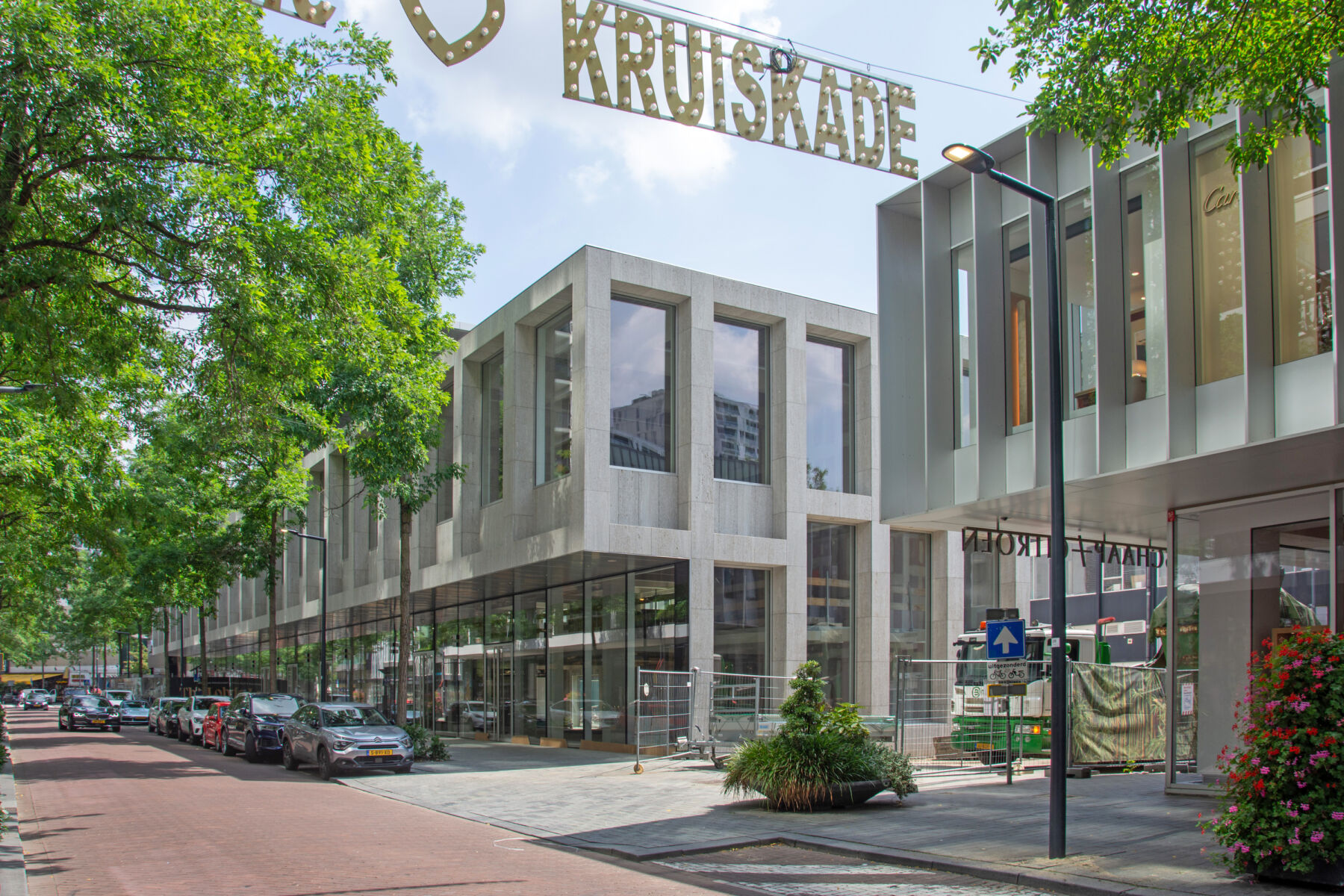 If you have visited the Kruiskade since the summer, you have undoubtedly seen it: the Lobby has been completed. For a unique look both at and inside the building, we had a beautiful video made by Top-Shot.nl. Check out the result at the bottom of this article!

The Lobby
A contemporary design by KAAN Architecten was chosen for The Lobby, which fits in with both volume and appearance in this monumental area on Kruiskade. As part of the urban renewal of the area, the outdated Crystal House has been completely sustainably transformed, based on transparency, accessibility and a lively program.

The new open ground floor works as an inviting plinth that ensures a smooth transition between inside and outside. In particular, the openness of the ground floor, but also the many large facade openings on the floors and in the rear facade, ensure an intimate relationship between shoppers and the high-quality catering and retail offerings in The Lobby.

On the roof of The Lobby there is a pavilion with sliding glass doors and lots of light. In line with Rotterdam's green roofs policy, a green roof garden is being developed on the roof of The Lobby. The green roof terrace will be accessible to the public at any time of the year. When you stand on the roof you enter a completely different world with a view over the city. The residents of the City House on the other side of the Kruiskade will soon look out on a green city oasis.

Official opening The Lobby
The Lobby was officially completed in July 2023. The official opening of The Lobby is expected to be in the second quarter of 2024.
Edwin Dickhoff: "Negotiations are currently underway with several parties and proposals are being exchanged. We have chosen not to place the inner walls yet, so that the tenants are free in the layout of their units. Later we will look at where the tenants can best land in the complex. Once the puzzle has been put together, we will install the interior walls and the shops can be delivered."
"The shops require quite a long installation period. As soon as we have placed the inner walls - the building will be delivered hull - the tenants still have to install their interior and technical installations. Taking this into account, The Lobby is expected to open its doors in the second quarter of next year."
Watch the video below!